BLS startet zweite Intensivbauphase im Lötschberg-Scheiteltunnel
Im Lötschberg-Scheiteltunnel wird ab nächstem Montag bis vor Weihnachten intensiv gebaut. Trotz den umfangreichen Arbeiten verkehren die Autoverladezüge mindestens einmal pro Stunde. Die Bauarbeiten für die Erneuerung der Fahrbahn haben im letzten Herbst begonnen und dauern vier Jahre.
Die BLS ersetzt im Lötschberg-Scheiteltunnel die alten Gleise mitsamt Schotter und Schwellen durch eine feste Fahrbahn auf Betonelementen. Am 28. Oktober startet sie in die zweite Intensivbauphase. Während den nächsten acht Wochen finden Arbeiten im Bereich der Weichen in der Tunnelmitte statt. Dafür sperrt die BLS ein Gleis im Tunnel komplett. Die intensiven Bauarbeiten dauern bis zum 20. Dezember.
Stündlich ein Autozug und ein RegioExpress
Die Bauarbeiten wirken sich auf das Angebot am Lötschberg aus. Während der Intensivbauphase ist der Tunnel nur einspurig befahrbar. Die BLS bietet am Autoverlad zwischen Kandersteg und Goppenstein pro Richtung und Stunde einen Zug an. Automobilisten müssen an den Verladestellen mit längeren Wartezeiten rechnen. Wenn möglich bietet die BLS kurzfristig zusätzliche Autozüge an. Die RegioExpress-Züge verkehren weiterhin stündlich über die Bergstrecke und durch den Tunnel.
Die BLS ermöglicht während den Bauarbeiten ein durchgehendes Angebot. Sie führt die Arbeiten etappenweise unter laufendem Bahnbetrieb während vier Jahren aus. Die intensiven Bauarbeiten finden in den nachfrageschwachen Wochen im November und Dezember statt. An den Wochenenden zwischen Weihnachten und Ostern ruhen die Arbeiten im Tunnel jeweils ab Freitagmittag. So kann die BLS den Autoverlade-Kunden an den Spitzentagen im Winter das Maximum von sieben Autozügen pro Stunde und Richtung anbieten.
Schotter weicht Beton
Der Lötschberg-Scheiteltunnel verbindet seit 1913 das Wallis mit Bern. Die Fahrbahn des 14,6 Kilometer langen Tunnels auf der Bergstrecke zwischen Kandersteg und Goppenstein ist über 40 Jahre alt und muss erneuert werden. Die BLS ersetzt die Gleise mitsamt Holzschwellen und Schotter durch eine feste Fahrbahn aus Beton. Die Arbeiten, für welche die BLS rund 105 Millionen Franken investiert, dauern von 2018 bis Ende 2022.
Aktuelle Verkehrslage am Autoverlad
Informationen zum Bauprojekt
Contact for media representatives
BLS Ltd, media office
telephone +41 58 327 29 55
fax +41 58 327 29 10
media@bls.ch
(Monday to Friday, 08.00–17.00 hours)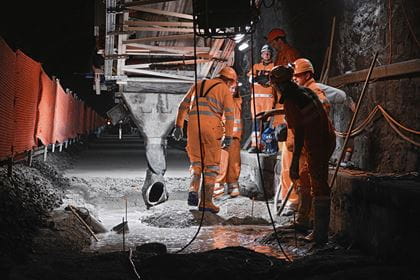 New track in the Lötschberg Summit Tunnel
Investing in the future: The tracks in the Lötschberg Summit Tunnel were last replaced in the 1970s. BLS is now investing in a modern and sustainable track so that our customers can continue to travel safely and conveniently through the tunnel between Goppenstein and Kandersteg.