Swimming in the River Aare from the Eichholz river beach to the Marzili Lido
The "Aare swim" from the Eichholz river beach to the legendary Marzili Lido is a classic swimming route in Bern.
The "Marzili" is one of Switzerland's biggest and most-frequented lidos, a popular meeting spot on warm summer days and legendary for being the first place where Swiss women sunbathed topless. Swimmers can swim their lengths in the pool, but the true "Marzilian" loves to stroll upstream to the Eichholz river beach, and there enter the Aare and let themselves be carried back downstream to the Marzili at up to 3 metres a second. This is a truly unforgettable experience, and not just for locals.
Facilities
Aare riverside bathing area
50m swimming pool with 8 lanes
Diving pool, with 1m and 3m diving boards
Two 25m pools for non-swimmers
Paddling pool for children with "sails" providing protection from the sun
"Bueberseeli" lake with a swimming channel to the River Aare
Cabins and lockers for clothes and valuables
"Paradiesli" naturist bathing area for women (separate changing rooms and inner courtyard area protected from view)
Large sunbathing lawns with mature trees
Beach volleyball courts
Table tennis tables
Pool lift for Visitors with disabilities

Food and drink
Large lido restaurant with terrace
Fürst bakery and Gelateria di Berna very nearby
Availability
Today (Monday) open
The Marzili is open from 1 Mai to 27 September 2020.
Opening hours
11.05.−31.05.2020
daily, 08.30−19.00 hours
01.06.−09.08.2020
Mon-Fri, 07.00−21.00 hours
Sat-Sun, 08.30−21.00 hours
10.08.−31.08.2020
Mon-Fri, 07.00−20.00 hours
Sat-Sun, 08.30−20.00 hours
01.09.−22.09.2020
daily, 08.30−19.00 hours
Access to the River Aare at the Eichholz campsite and to the Marzili riverside lido are both free of charge.
Cabins, clothes lockers and deposit boxes for valuables can be rented for a fee at the Marzili.
Aare you safe?

Swimming in the Aare is only recommended for proficient swimmers and is at the swimmer's own risk.


To keep your valuables dry, we recommend purchasing a handy "Aaresack".
The Marzili lido is approx. 10 minutes' walk from Bern Railway Station. To get back up to the inner city, we recommend a short ride on the "Marzilibähnli", or Marzili funicular.
Weather & webcam
Today: partly cloudy 12/19°
| Day | Weather | Temperature |
| --- | --- | --- |
| Today | | 12/19° |
| Tomorrow | | 7/20° |
| Wednesday | | 10/23° |
| Thursday | | 12/24° |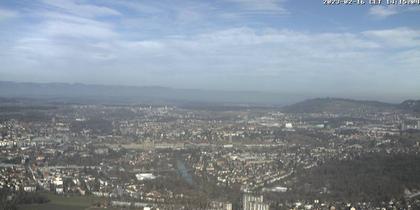 Other bathing areas by the River Aare
The following bathing areas by the Aare are also easy to reach using the BLS network