Die BLS plant 2020 ohne Fernverkehr
Die BLS wird die beiden Fernverkehrslinien Bern–Biel und Bern–Burgdorf–Olten nicht übernehmen, solange die Beschwerde gegen die Konzessionsverfügung hängig ist. Das hat das Bundesverwaltungsgericht entschieden. Deshalb plant die BLS das Jahr 2020 nun ohne die beiden Linien.
Das Bundesamt für Verkehr (BAV) hat der BLS letztes Jahr die beiden Fernverkehrslinien Bern–Biel und Bern–Burgdorf–Olten zugesprochen. Dagegen hat die SBB Beschwerde eingelegt. Nun ist klar, dass die BLS die beiden Linien nicht wie geplant auf den Fahrplanwechsel vom 15. Dezember 2019 übernehmen kann. Das Bundesverwaltungsgericht hat entschieden, dass der Beschwerde die aufschiebende Wirkung nicht entzogen wird. Daher kann der Wechsel der beiden Linien von der SBB zur BLS erst erfolgen, wenn das Bundesverwaltungsgericht in der Sache definitiv entschieden hat.
Die BLS wird diesen Entscheid nicht anfechten. Sie geht davon aus, dass sie aufgrund der äusserst kurzen verbleibenden Zeit auch bei einem positiven Entscheid des Bundesverwaltungsgerichts den Fernverkehr nach Biel und Olten somit frühestens ab dem Fahrplanwechsel im Dezember 2020 fahren kann. Für den Fahrplanwechsel im Dezember 2019 plant die BLS nun ohne Fernverkehr.
Fahrgäste sollen von den neuen Zügen profitieren
Für ihre Fernverkehrslinien hat die BLS bei Stadler acht MUTZ-Züge bestellt. Die BLS prüft derzeit verschiedene Szenarien, wie die bestellten Züge so schnell wie möglich für die Fahrgäste eingesetzt werden können.
Mehr Fernverkehrsanbieter für einen starken Service Public
Das aktuelle Vergabeverfahren zeigt, dass neue Gesuchsteller im Fernverkehr derzeit benachteiligt sind. Die Umsetzung des vom Bund initiierten Modells «SBB plus X» ist so nicht möglich. Die BLS begrüsst daher die Absicht des BAV, das Vergabeverfahren zu überprüfen. Sie ist überzeugt, dass mehrere Anbieter im Fernverkehr dazu beitragen, das anhaltend starke Wachstum und den steigenden Kostendruck im öffentlichen Verkehr zu bewältigen.
Contact for media representatives
BLS Ltd, media office
telephone +41 58 327 29 55
fax +41 58 327 29 10
media@bls.ch
(Monday to Friday, 08.00–17.00 hours)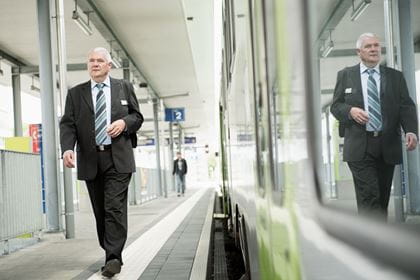 Long-distance transport
In August 2019, BLS and SBB signed an Operating Agreement for sharing long-distance traffic. According to this agreement, as before SBB retains the integral licence for long-distance traffic, but relinquishes some lines to BLS for commercial operation. BLS holds full responsibility for its long-distance lines with regard to revenue, quality and costs and will operate with its own trains and train drivers.