BLS-Strecke Langenthal–Wolhusen – Die BLS eröffnet den komplett modernisierten Bahnhof Huttwil
Nach einer Bauzeit von zweieinhalb Jahren eröffnet die BLS heute den modernisierten Bahnhof Huttwil mit einer offiziellen Einweihungsfeier. Aus dem sanierungsbedürftigen Bahnhof aus den späten 1950er-Jahren ist ein attraktiver Bahnhof geworden. Die BLS hat insgesamt rund 50 Millionen Franken in die Bahnhofmodernisierung investiert.
An einer offiziellen Feier hat die BLS heute den modernisierten Bahnhof Huttwil eröffnet. Nach dem Totalumbau profitieren die Fahrgäste und Kunden von einem modernen und kundenfreundlichen Bahnhof. Kernelemente der Modernisierung sind der Ersatz der Handweichen durch ein elektronisches Stellwerk, behindertengerechte Perrons und Personenunterführungen für ein komfortables Ein- und Aussteigen sowie vereinfachte Gleis- und Fahrleitungsanlagen. Die Modernisierung des Bahnhofs Huttwil hat insgesamt zweieinhalb Jahre gedauert. Das 50 Millionen Franken teure Projekt wird vom Bund, von den Kantonen Bern und Luzern sowie von der Gemeinde Huttwil finanziert. Das neue Bahnhofgebäude mit dem neuen BLS Reisezentrum ist seit Kurzem bezugsbereit.
Als symbolischen Akt hat die Berner Regierungsrätin und Verkehrsdirektorin Barbara Egger-Jenzer gemeinsam mit dem Huttwiler Gemeindepräsidenten Hansjörg Muralt und dem Leiter Infrastruktur der BLS Daniel Wyder die letzte Schraubenmutter in goldener Farbe im Bahngleis angezogen. «Der Bahnhof ist nun fit für die Zukunft», sagte Daniel Wyder an der Einweihungsfeier.
Verkehrsdirektorin Barbara Egger-Jenzer lobte die gute Zusammenarbeit zwischen den verschiedenen Akteuren der Grossbaustelle und wies auf die Wichtigkeit von gesamtheitlichen Lösungen für alle Verkehrsteilnehmer hin. Der neu erstellte Kreisel gleich neben dem Bahnhof erlaube zum Beispiel eine optimale Zufahrt der Busse zum BLS-Bahnhof. Gemeindepräsident Hansjörg Muralt verbindet mit der Inbetriebnahme des neuen Bahnhofs das Ende seiner Amtszeit. «Wir können stolz auf das Bauwerk sein», betonte Muralt. Er freue sich, dass die Huttwiler Bevölkerung vom neuen Bahnhof profitieren könne.
Neben der offiziellen Eröffnungsfeier von heute Donnerstag lädt die BLS die Bevölkerung zum öffentlichen Eröffnungsfest des BLS Reisezentrums ein. Am Samstag, 3. Dezember 2016 können Interessierte das Reisezentrum zwischen 10 und 14 Uhr besichtigen. Um 10 Uhr wird die BLS ausserdem eine NINA-Komposition auf den Namen «Huttwil» taufen.
Contact for media representatives
BLS Ltd, media office
telephone +41 58 327 29 55
fax +41 58 327 29 10
media@bls.ch
(Monday to Friday, 08.00–17.00 hours)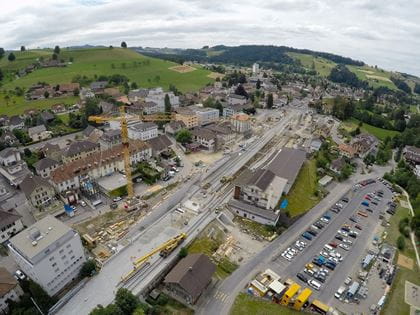 Modernisation of Huttwil Railway Station
BLS is setting trends. Between 2014 and 2016, BLS has comprehensively modernised the railway station in Huttwil, and thus contributed to a facelift for the entire station area. The old station building was replaced with a modern construction, and the tracks are now easier to reach thanks to new, well-lit underpasses and platforms.