BLS will Mehrkosten für Bauarbeiten im Lötschberg-Scheiteltunnel möglichst tief halten
Die Fahrbahnerneuerung im Lötschberg-Scheiteltunnel kostet mehr und dauert länger als ursprünglich geplant. Die BLS will die Mehrkosten für das Bauprojekt so tief wie möglich halten und die Arbeiten rasch fertigstellen. Die Pläne für ihr redimensioniertes Projekt bespricht die BLS nun mit dem Bundesamt für Verkehr.
Seit Mitte 2018erneuert die BLS die Fahrbahn im Lötschberg-Scheiteltunnel zwischen Kandersteg und Goppenstein. Die Schotterfahrbahn wird durch eine moderne Betonfahrbahn ersetzt. Wegen unterschiedlichen Interpretationen des Werkvertrages wird das Projekt teurer als angenommen. Die mit der Sanierung beauftragte Arbeitsgemeinschaft (ARGE) Marti stellt hohe Nachforderungen für Mehrmengen von Aushubmaterial und Beton, mit welchen sich die BLS nicht einverstanden erklärt. Zusätzlich verteuert die Komplexität der Baustelle das Projekt: Der Lötschberg-Scheiteltunnel ist über 100 Jahre alt, gebaut wird auf engstem Raum und unter laufendem Bahnbetrieb. Die Logistik und die Sicherheitsvorkehrungen sind entsprechend anspruchsvoll.
BLS und ARGE Marti wollen Sanierungsprojekt redimensionieren
Die BLS und die ARGE Marti haben sich mündlich darauf geeinigt, das Sanierungsprojekt zu redimensionieren und damit rasch fertigzustellen. Der Verwaltungsrat der BLS unterstützt dieses Vorgehen. Der ARGE Marti soll CHF 130 Millionen statt den ursprünglich ausgehandelten CHF 89 Mio. für die Fahrbahnerneuerung bezahlt werden. Dafür soll sie den doppelspurigen Tunnel bis 1,3 Kilometer vor dem südlichen Tunnelportal mit einer Betonfahrbahn ausrüsten. Die Gesamtkosten für die BLS belaufen sich damit inklusive interner Kosten, Honorare und Kosten für die Sicherheit auf CHF 145 statt auf 105 Mio. Franken. Die verbleibende 1,3 Kilometer lange Doppelspur vor dem Südportal will die BLS vorläufig bestehen lassen.
Autozüge fahren weiterhin mindestens im Halbstundentakt
Weil die ARGE Marti von tieferen Mengen an Aushub und Beton ausgegangen ist, verlängert sich die Bauzeit. Statt Ende 2022 wird das redimensionierte Projekt voraussichtlich Ende 2023 fertig gestellt sein. Durch die zeitlichen Verzögerungen verschieben sich auch die Bauphasen: Die geplante Sperrung eines der beiden Gleise von Ende Oktober 2020 bis kurz vor Weihnachten entfällt. Die Autozüge fahren somit unter der Woche wie bisher im Halbstundentakt. An den Wochenenden bietet die BLS bis zu drei Züge pro Stunde an. Über Weihnachten und Neujahrwerden die Bauarbeiten ruhen. Die BLS kann damit den Kunden bis zu sieben Autozüge pro Stunde und Richtung anbieten. Gleiches gilt für alle Wochenenden in der Skisaison bis und mit Ostern.
Änderung des Projekts bedingt Änderung der Plangenehmigung
Eine Änderung des Sanierungsprojektes im Lötschberg-Scheiteltunnel bedingt eine Änderung der Plangenehmigung – also der vom Bundesamt für Verkehr (BAV) erteilten Baubewilligung. Zudem müssen wegen der Mehrkosten zusammen mit dem BAV die verschiedenen Erneuerungs-Projekte im Rahmen des Zahlungsrahmens («Leistungsvereinbarung») für die Bahninfrastruktur neu priorisiert werden. Die BLS wird darum ihren Vorschlag für das redimensionierte Bauprojekt und das weitere Vorgehen nun so rasch wie möglich mit dem BAV besprechen.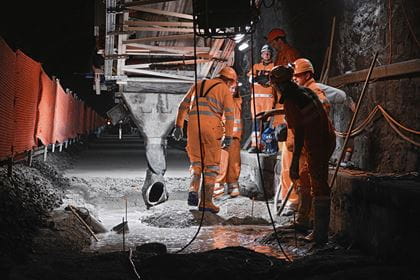 New track in the Lötschberg Summit Tunnel
Investing in the future: The tracks in the Lötschberg Summit Tunnel were last replaced in the 1970s. BLS is now investing in a modern and sustainable track so that our customers can continue to travel safely and conveniently through the tunnel between Goppenstein and Kandersteg.
Contact for media representatives
BLS Ltd, media office
telephone +41 58 327 29 55
fax +41 58 327 29 10
media@bls.ch
(Monday to Friday, 08.00–17.00 hours)