BLS erneuert Fahrbahn im Lötschberg-Scheiteltunnel
Die BLS erneuert die Fahrbahn im Lötschberg-Scheiteltunnel zwischen Kandersteg und Goppenstein und sorgt damit dafür, dass das Mittelland auch künftig mit dem Wallis verbunden ist. Sie investiert dafür rund 105 Millionen Franken. Die Bauarbeiten finden unter laufendem Bahnbetrieb statt und dauern bis 2022.
Der Lötschberg-Scheiteltunnel verbindet seit 1913 das Wallis mit Bern. Die Fahrbahn des 14,6 Kilometer langen Tunnels auf der Bergstrecke zwischen Kandersteg und Goppenstein ist über 40 Jahre alt und muss erneuert werden. Die BLS ersetzt die Gleise mitsamt Holzschwellen und Schotter durch eine feste Fahrbahn aus Beton. Diese ist nachhaltiger, da sie günstiger im Unterhalt ist und eine längere Lebensdauer als die alte Fahrbahn aufweist. Zudem wird die Fahrt durch den Tunnel ruhiger. Die Baumeisterarbeiten hat die BLS der Arbeitsgemeinschaft (ARGE) Marti vergeben. Die Bauarbeiten dauern von Anfang August 2018 bis Ende 2022.

Um die Kunden des Autoverlads und die Reisenden des Regionalverkehrs möglichst wenig zu beeinträchtigen, führt die BLS die Bauarbeiten etappenweise und unter laufendem Bahnbetrieb aus. Die BLS investiert dafür rund 105 Millionen Franken. Die erste Kostenschätzung im Jahr 2017 lag bei 83,5 Millionen Franken. Die Komplexität der Baustelle, die lange Bauzeit auf mehreren Abschnitten und die engen Platzverhältnisse im Tunnel führten zu Mehrkosten.
In der Hochsaison fahren sieben Autozüge pro Stunde
Die Vorbereitungsarbeiten beginnen Anfang August. Ab dem 20. August wirken sich die Bauarbeiten auf den Autoverladebetrieb aus: Bis Ende Oktober fahren die Autozüge im Halbstundentakt durch den Tunnel. Im September können die Autozüge an Samstagen und Sonntagen ohne Einschränkungen verkehren. Mit längeren Wartezeiten müssen die Kunden im November und Dezember rechnen: Während diesen beiden Monaten finden intensive Bauarbeiten statt, folglich kann die BLS nur einen Autozug pro Stunde und Richtung fahren. An den Wochenenden zwischen Weihnachten und Ostern ruhen die Bauarbeiten im Tunnel. So kann die BLS den Autoverlade-Kunden an den Spitzentagen auch während der Bauzeit das Maximum von sieben Autozügen pro Stunde und Richtung anbieten. Die Auswirkungen auf den Betrieb des Autoverlads für das Jahr 2019 stehen erst nach der Trassenvergabe für die Lötschberg-Bergstrecke im Herbst fest.
RegioExpress-Züge fahren weiterhin im Stundentakt
Die RegioExpress-Züge der BLS zwischen Bern, Spiez, Brig und Domodossola verkehren während der Bauarbeit weiterhin im Stundentakt. Weil die Züge weniger schnell durch den Tunnel fahren können, müssen sie die verloren gegangene Zeit auf der Lötschberg-Südrampe wieder aufholen, damit sie die Anschlüsse in Brig in Richtung Unterwallis erreichen. Die BLS hat in Absprache mit dem Kanton Wallis deshalb während der vierjährigen Bauzeit folgende Änderungen geplant, die auf den Fahrplanwechsel am 9. Dezember 2018 in Kraft treten:
Die Haltestelle Lalden wird nicht bedient. Lalden wird aber weiterhin per Bus erreichbar sein.
Die Haltestelle Hohtenn wird anstatt im Stundentakt nur im 2-Stunden-Takt bedient.
In Eggerberg verzichtet die BLS auf den Halt von jeweils zwei Zügen am Vormittag in Richtung Brig–Domodossola.
Von den Bauarbeiten weniger betroffen ist der Güterverkehr. Bereits heute verkehren die meisten Züge durch den Lötschberg-Basistunnel.

Auf bls.ch/autoverlad informiert die BLS jeweils über die aktuelle Verkehrslage. Auch der Online-Fahrplan wird angepasst.
Mehr Informationen zum Bauprojekt finden Sie auf bls.ch/scheiteltunnel.


Contact for media representatives
BLS Ltd, media office
telephone +41 58 327 29 55
fax +41 58 327 29 10
media@bls.ch
(Monday to Friday, 08.00–17.00 hours)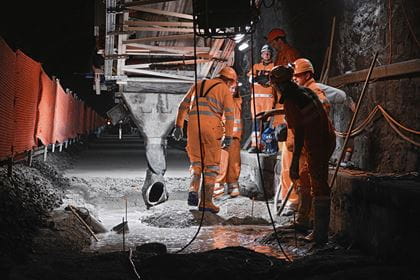 New track in the Lötschberg Summit Tunnel
Investing in the future: The tracks in the Lötschberg Summit Tunnel were last replaced in the 1970s. BLS is now investing in a modern and sustainable track so that our customers can continue to travel safely and conveniently through the tunnel between Goppenstein and Kandersteg.