BLS weiht neue Werft am Thunersee ein
Heute eröffnet die BLS die neue Werft am Thunersee mit einer offiziellen Einweihungsfeier. Dank des Neubaus, der massgeblich vom Kanton Bern finanziert worden ist, ist die Zukunft der Thunersee-Schifffahrt gesichert.
Heute Donnerstag nimmt die BLS die neue Werft am Lachenkanal in Thun offiziell in Betrieb. Diesen Meilenstein feiert die BLS mit Mitarbeitenden und mit Gästen aus Politik und Verwaltung. Mit dem Neubau ist die Zukunft der Schifffahrt gesichert. Die BLS kann ihre Thunersee-Flotte in der Anlage mit Trockendock künftig effizient instand halten. Die alte, 110-jährige Werfthalle entsprach nicht mehr dem aktuellen Stand der Technik und musste aus Sicherheitsgründen ersetzt werden.

Der Kanton Bern hat den Bau der neuen Werft massgeblich finanziert; Anfang 2015 stimmte das Kantonsparlament dem Investitionsantrag über 12,8 Millionen Franken ohne Gegenstimme zu. «Die BLS Schifffahrt wird damit auch weiterhin ein wichtiges Puzzlestück im touristischen Gesamtbild des Berner Oberlandes sein», betonte Regierungsrätin Barbara Egger-Jenzer an der Einweihungsfeier.

Die neue Trockendockanlage vereinfacht die Unterhaltsarbeiten am Unterwasserbereich der Schiffe wesentlich. Mussten die bis zu 440 Tonnen schweren Schiffe in der alten Werft mit einer Aufzuganlage aus dem Wasser gezogen werden, wird in der neuen Anlage das Wasser abgepumpt, bis die Unterseite des Schiffs frei liegt. Die BLS hat ebenfalls die angrenzenden Werkstätten wie etwa die Schreinerei erneuert und schafft damit moderne Arbeitsplätze für ihre Mitarbeitenden. Der nachhaltige, mit Schweizer Holz verkleidete Bau wird durch eine Photovoltaikanlage auf dem Dach optimal ergänzt: Rund ein Drittel des Strombedarfs für die Werft bezieht die BLS von dieser Anlage.

Erste Testläufe in der Trockendockanlage hat die BLS im Dezember erfolgreich durchgeführt. Das Motorschiff Berner Oberland ist das erste Schiff, das seit einer Woche in der neuen Halle auf Stapel liegt. Die BLS saniert den Unterwasserbereich und führt dringende Unterhaltsarbeiten durch.

Am 24. und 25. März 2018 lädt die BLS die Bevölkerung zu zwei Tagen der offenen Werft ein. Auch bietet die BLS Interessierten ab April kostenpflichtige Führungen in der Werft an.

Weitere Informationen: bls.ch/werft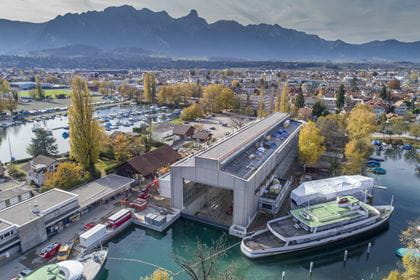 New boatyard hall on Lake Thun
After a good year or more of building work, on 11 January BLS officially opened its new boatyard facility on the Lachenkanal. Thanks to this newly constructed facility, which was largely financed by the canton of Bern, the future of boat operations on Lake Thun has been guaranteed.
Contact for media representatives
BLS Ltd, media office
telephone +41 58 327 29 55
fax +41 58 327 29 10
media@bls.ch
(Monday to Friday, 08.00–17.00 hours)