BLS erneuert Fahrbahn im Lötschberg-Scheiteltunnel
Die Gleise des 14,6 Kilometer langen Lötschbergtunnels auf der Bergstrecke zwischen Kandersteg und Goppenstein sind über 40 Jahre alt. Die BLS ersetzt sie durch eine moderne Fahrbahn. Diese ist günstiger in der Erhaltung und komfortabler für die Fahrgäste. Die Pläne für die notwendige Erneuerung werden demnächst öffentlich aufgelegt.
Die BLS erneuert die Fahrbahn im Lötschberg-Scheiteltunnel. Die alten Gleise mitsamt Holzschwellen und Schotter werden entfernt und durch eine feste Fahrbahn aus Beton ersetzt. Diese ist nachhaltiger, da sie günstiger in der Erhaltung ist und eine längere Lebensdauer aufweist. Zudem wird die Fahrt durch den Tunnel ruhiger. Gleichzeitig kann der Tunnel, anstatt bis anhin einspurig, neu auf beiden Gleisen von Güterzügen mit einem Vier-Meter-Eckprofil befahren werden. Dies erleichtert den Betrieb massgeblich, insbesondere für den BLS Autoverlad, dem wichtigsten Bindeglied für den Individualverkehr zwischen den Kantonen Bern und Wallis. Für die Erneuerung rechnet die BLS mit Kosten von 83,5 Millionen Franken.
Bauarbeiten werden etappenweise durchgeführt
Die Pläne wurden bereits dem Bundesamt für Verkehr (BAV) eingereicht und werden demnächst öffentlich aufgelegt. Der Baustart im Tunnel ist Mitte 2018 vorgesehen, geplante Fertigstellung ist Ende 2022. Die BLS führt die Bauarbeiten etappenweise in mehreren Abschnitten aus, sodass der Autoverlad und der Regionalverkehr möglichst wenig beeinträchtigt werden.
Der Lötschberg-Scheiteltunnel ist seit 1913 in Betrieb, er verbindet Kandersteg und Goppenstein. Auch seit der Inbetriebnahme des 2007 eröffneten NEAT-Lötschberg-Basistunnels wird er rege genutzt; vor allem durch den BLS Autoverlad, aber auch durch RegioExpress-Züge der BLS sowie durch den Güterverkehr. Zusammen bilden die beiden Tunnel ein Gesamtsystem auf der Lötschberg-Simplon-Achse der NEAT.
Contact for media representatives
BLS Ltd, media office
telephone +41 58 327 29 55
fax +41 58 327 29 10
media@bls.ch
(Monday to Friday, 08.00–17.00 hours)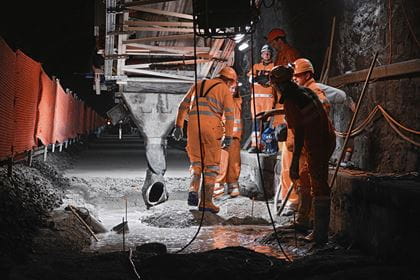 New track in the Lötschberg Summit Tunnel
Investing in the future: The tracks in the Lötschberg Summit Tunnel were last replaced in the 1970s. BLS is now investing in a modern and sustainable track so that our customers can continue to travel safely and conveniently through the tunnel between Goppenstein and Kandersteg.