Bauarbeiten im Lötschberg-Scheiteltunnel werden bis auf Weiteres unterbrochen
Nach Ostern hätte die BLS die Bauarbeiten im Lötschberg-Scheiteltunnel intensivieren wollen. Weil die Vorschriften im Rahmen der Corona-Pandemie auf der Baustelle nicht eingehalten werden können, wird der Start dieser Bauphase bis auf Weiteres verschoben.
Die Bauarbeiten für die Fahrbahnsanierung im Lötschberg-Scheiteltunnel zwischen Kandersteg und Goppenstein werden unterbrochen. Wie bereits letztes Jahr hätte die BLS am Dienstag nach Ostern in eine nächste Bauphase starten wollen. Diese Bauphase sieht vor, auf rund sechs Kilometern des Tunnels die alte Schotterfahrbahn durch eine feste Fahrbahn aus Beton zu ersetzen. Dafür muss die Hälfte eines Gleises des doppelspurigen Tunnels während sieben Monaten gesperrt werden.
Für diese Arbeiten stünden bis zu 100 Personen im Einsatz. Sowohl auf der Baustelle im Tunnel wie auch in den Unterkünften vor Ort sind die Platzverhältnisse eng, wie die Suva bei einer Besichtigung vor Ort festgestellt hat. Die Vorschriften des Bundes betreffend Hygiene und sozialer Distanz im Rahmen der Corona-Pandemie können nicht umgesetzt werden. Die Bauarbeiten werden deshalb bis auf Weiteres unterbrochen.
Im Hinblick auf die intensiveren Bauarbeiten hat die BLS seit Anfang Jahr Vorbereitungsarbeiten geleistet, diese konnten planmässig am 1. April abgeschlossen werden. Dabei haben zwischen 20 bis 30 Personen auf der Baustelle gearbeitet, die Vorschriften des Bundes konnten umgesetzt werden.
Der Baustopp wirkt sich nicht auf den Verkehr aus. Wegen der Corona-Pandemie verkehren die Autozüge zwischen Kandersteg und Goppenstein bereits seit dem 19. März im Halbstundentakt. Die RegioExpress-Züge zwischen Bern, Spiez und Brig verkehren weiterhin im Stundentakt.
Bauarbeiten unter laufendem Bahnbetrieb bis 2022
Der Lötschberg-Scheiteltunnel verbindet seit 1913 das Wallis mit Bern. Die Fahrbahn des 14,6 Kilometer langen Tunnels ist über 40 Jahre alt und muss erneuert werden. Die BLS ersetzt die Gleise mitsamt Holzschwellen und Schotter durch eine feste Fahrbahn aus Beton. Diese ermöglicht mehr Fahrkomfort und einen niedrigeren Unterhaltsaufwand. Um eine Sperre des Tunnels zu umgehen, führt die BLS die Arbeiten etappenweise unter laufendem Bahnbetrieb zwischen 2018 und 2022 aus.
Contact for media representatives
BLS Ltd, media office
telephone +41 58 327 29 55
fax +41 58 327 29 10
media@bls.ch
(Monday to Friday, 08.00–17.00 hours)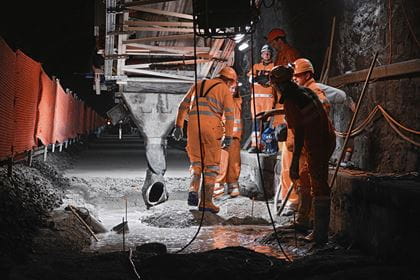 New track in the Lötschberg Summit Tunnel
Investing in the future: The tracks in the Lötschberg Summit Tunnel were last replaced in the 1970s. BLS is now investing in a modern and sustainable track so that our customers can continue to travel safely and conveniently through the tunnel between Goppenstein and Kandersteg.