10 Jahre Vollbetrieb des Lötschberg-Basistunnels
Am 15. Juni 2007 nahm die BLS den knapp 35 Kilometer langen Lötschberg-Basistunnel in Betrieb. Seither ist er aus der Schweizer Verkehrslandschaft nicht mehr wegzudenken: Bis zum heutigen Tag haben ihn 314'814 Züge befahren.
Heute vor genau 10 Jahren nahm die BLS ihr mit Abstand grösstes Bauwerk in Betrieb. Der Tunnel wurde damals feierlich durch den damaligen Chef der Alptransit AG Peter Teuscher und Verkehrsminister Moritz Leuenberger an die BLS als Betreiberin übertragen, damals noch mit Direktor Mathias Tromp. Seither ist der Lötschberg-Basistunnel fester Bestandteil des Schienenverkehrs in der Schweiz und Europa. Die Hightech-Anlage mit unzähligen elektronischen Einrichtungen verfügt über eine eigene Strom-, Wasser und Luftversorgung. 146 Videokameras und 2200 Detektionsgeräte vom Thermometer bis zum Gasmelder sorgen für die lückenlose Überwachung des Tunnels, welcher von der Betriebszentrale der BLS in Spiez ferngesteuert wird.
Für den Personenverkehr bedeutete die Eröffnung des ersten NEAT-Bauwerkes einen Quantensprung. Das Wallis und Norditalien rückten damit um über eine Stunde näher an das Mittelland, was einen in seinem Ausmass unerwarteten Nachfrageboom auslöste. Durchquerten vor Eröffnung des Basistunnels durchschnittlich 7'600 Personen pro Tag den Lötschberg, sind es heute über 13'000.
Der Güterverkehr hat sich auf der gesamten Lötschbergachse massiv entwickelt. 2016 wurde mit über 33 Millionen transportierten Bruttotonnen ein neuer Rekord erreicht. Gegenüber 1999 entspricht dies einer Zunahme von 408 Prozent. Auch für das laufende Jahr zeichnet sich ein neuer Rekord ab.
Der Lötschberg-Basistunnel funktioniert äusserst zuverlässig. Nur 0,1 Prozent der Züge mussten wegen technischen Störungen an der Infrastruktur über die Bergstrecke umgeleitet werden. Alle anderen Unterbrüche waren stets auf Fahrzeugstörungen zurückzuführen.
Bis heute befuhren den Basistunnel 314'814 Züge, im Schnitt also 30'000 pro Jahr, womit er an seiner Kapazitätsgrenze angekommen ist. Auf 21 seiner knapp 35 Kilometer ist er jedoch nur einspurig befahrbar. Auf einer Länge von 14 Kilometern besteht bereits ein Tunnel im Rohbau. Die BLS plant zurzeit den weiteren Ausbau.
Mehr Informationen finden Sie unter bls.ch/neat
Bilder zum Thema finden Sie hier.
Contact for media representatives
BLS Ltd, media office
telephone +41 58 327 29 55
fax +41 58 327 29 10
media@bls.ch
(Monday to Friday, 08.00–17.00 hours)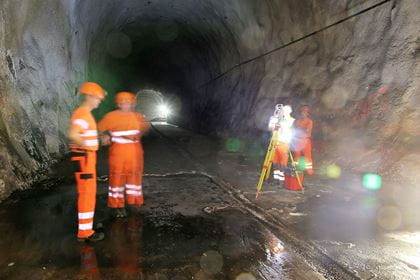 BLS is upgrading the Lötschberg Base Tunnel
The Lötschberg Base Tunnel is the centrepiece of the BLS infrastructure and a central element of the NRLA, the New Rail Link through the Alps. BLS upgrades the Tunnel. This will put in place the prerequisites for a half-hourly Intercity service between Bern and Valais. And freight trains will therefore travel more frequently through the Base Tunnel instead of using the Lötschberg mountain line, thus increasing productivity.